Meghan McCain is defiant, opinionated, determined, contrarian, won't be pushed around—and wants you to know it.
She is also at times angry, depressed, anxious, insecure, bursting with raw emotion—and isn't hiding that either.
All this comes pouring out, in great gushes of words, in her forthcoming audio memoir "Bad Republican." It traces her evolution from senator's daughter and party girl to conservative warrior on "The View" to a humiliated panelist who quits the hit show, and serves as a scorching response to those she feels have mistreated her.
Chief among these are the liberal women she fiercely debated and who, from her vantage point, betrayed her during her painful passage from miscarriage to motherhood during a pandemic.
McCain had both the opportunity and the burden of generally being the only Republican voice on the daytime show, even as she aired her bitter feelings toward Donald Trump, who relentlessly attacked her father in both life and death. And she felt vilified by a misogynistic media that portrayed her as a quirky drama queen, fueled by nasty leaks that, perversely, only added to her fame.
Detractors who see her as an entitled loudmouth will find some material here, and there is ample score-settling with the men as well as the female colleagues that she believes treated her like trash.
WILLIAM SHATNER'S INSPIRING SPACEFLIGHT OVERSHADOWS EXPOSÉ OF BLUE ORIGIN'S CULTURE
But unlike in most journalistic and political memoirs, McCain is the toughest on herself. It is her own spoken words on Audible that describe her headstrong behavior, including the time, as an aimless and boozy young woman, when her famous dad told her she was acting "like a jackass."
What will generate the gossipy headlines is McCain's account of her searingly personal conflicts with Joy Behar and Whoopi Goldberg. And she makes no attempt to sugarcoat their tortured relationship or pretend that behind the scenes they were all gal pals.
There was "toxic, direct and purposeful hostility" from the two women, McCain writes, and it "grew meaner and less forgiving" as Trump's tenure wore on, "as if I had become an avatar for everything they hated about the president." And that was strange, because "Whoopi and Joy saw front and center the emotional trauma I had experienced from President Trump's attacks on my family."
McCain was troubled by the "open disdain" from Goldberg, who sometimes harshly cut her off on the air: "Once she turns on you, it can create unfathomable tension at the table."
When McCain got pregnant as Covid started ravaging the country, and gave birth last year to her daughter Liberty, she says she "suffered from severe post-partum anxiety." She worried that people out there would try to kill or kidnap the baby. It wasn't rational, she freely admits, and those feelings "started to snowball into me thinking everyone hated me."
On her second day back at work, during an on-air squabble with Behar about the Democratic Party, McCain tried a tongue-in-cheek line: "Joy, you missed me so much when I was on maternity leave. You missed fighting with me."
"I did not," Behar said. "I did not miss you. Zero."
McCain was stunned. "I felt like I'd been slapped," she said.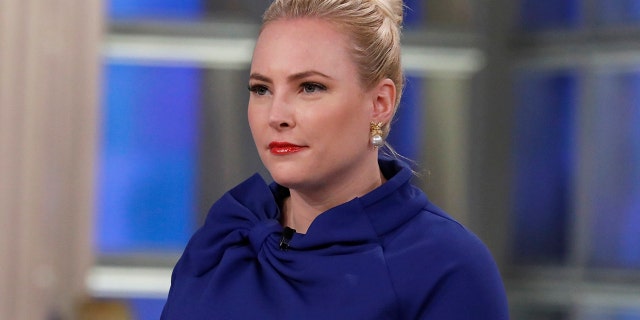 "The View" co-host Meghan McCain apologized after spoiling the finale of "Game of Thrones." 
When the show went to commercial, McCain burst into "uncontrollable sobbing" at the "nasty" remark. She pulled herself together, but with her hormones raging, she describes the experience as "intensely heartbreaking."
After the show, McCain resumed crying and threw up in a garbage can. And that's when she concluded: "This s*** isn't worth it. Nothing in life is worth it."
SUBSCRIBE TO HOWIE'S MEDIA BUZZMETER PODCAST, A RIFF OF THE DAY'S HOTTEST STORIES
McCain later told her executive producer to ask Behar to apologize, since "she had humiliated me live on air." She was told that would not happen. Behar, she felt, smelled her vulnerability "like a shark smells blood in the water."
Meghan is fully aware that it's "just a television show," and insists she's not "some delicate flower." But there were more panic attacks related to the baby, and a history of leaks where she was depicted as "crazy," an "unhinged lunatic." In the end, feeling she "just did not have the emotional bandwidth anymore," McCain left the ABC show with two years remaining on her contract.
What emerges is a portrait of a woman who is in fact treated differently by the media establishment because she is a conservative Republican. In 2019, Seth Meyers turned an NBC interview with a pregnant McCain on his late-night show into a confrontation, and after hours of crying, she refused to take a makeup call from him. The next day, during a photoshoot for "The View," McCain got a message from her doctor's office, which led to the crushing news that she had suffered a miscarriage. She blamed herself and her stressful life before eventually realizing that miscarriage is common and she could still have a baby.
For all the angst, the memoir has plenty of lighter moments. "I've messed up on Twitter 20 million times," McCain admits. "I used to drunk-tweet when I was in my early twenties."
When John McCain was running for the White House in 2008, the self-described "punk college kid" was included in a meeting where top aides said he should deal with the age issue by pledging to serve just one term. His daughter said that would sound desperate and he changed his mind, earning Meghan angry stares from the group of high-powered men.
CLICK HERE TO GET THE FOX NEWS APP
McCain recalls Trump calling her years earlier to invite her on "The Apprentice" and saying repeatedly that would make her a "winner." There was another call, as president, that she didn't want to take—her father said she had to—where Trump claimed he had been misquoted on some swipe at the senator but did not apologize, and Melania came on the line to say "we love you." 
In a stunning admission, McCain says she was so distraught about her father's 2018 death and having to write a eulogy that she become too testy on the air: "The pressure got to me…Knowing what I know now, I should have taken time off from the show, even if it meant giving up my job."
Trump's attacks continued after the senator's passing, with Meghan welcoming the president's loss in Arizona.
When Seth Meyers sent her a conciliatory note after their unpleasant clash, he thanked her for appearing at an "away game." For Meghan McCain, a conservative in a divided GOP within a liberal media culture, her entire media career feels like an away game. She says she's hardly a "perfect angel" and tries to own up to her mistakes. She spends hours speaking from the heart about the emotions that both drive her success and drive her crazy.