NEWYou can now listen to Fox News articles!
A Russian journalist who disrupted a live Russian newscast to protest her country's war with Ukraine, was released Tuesday by government officials, after being interrogated and fined. However, she could face a decade or more in prison for her protest, according to new Russian laws cracking down on those opposed to the war. 
The protester was later identified as Marina Ovsyannikova, who worked as an editor at the state-controlled Channel One news station. After leaving court, she told reporters she was interrogated for 14 hours with no sleep and was punished with a 30,000 rouble fine, equivalent to $280 American dollars.
Ovsyannikova's protest went viral Monday, after she rushed onto set during a Channel One broadcast holding up an anti-war sign and chanting in Russian, ""No to war! Stop the war!" 
Her sign read in Russian, "Stop the war! Don't believe propaganda! They're lying to you here!" with "Russians against war" written in English. After a few seconds, the live shot jumped to a pre-recorded segment.
RUSSIA INVADES UKRAINE: LIVE UPDATES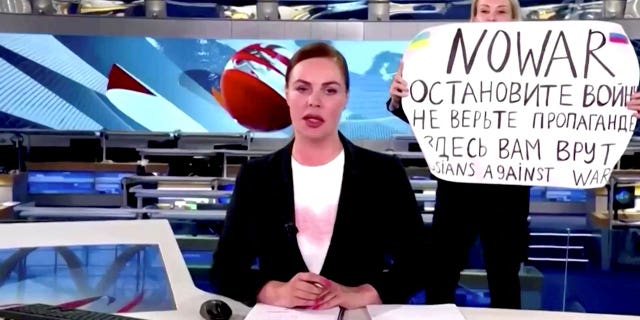 A person interrupts a live news bulletin on Russia's state TV "Channel One" holding up a sign that reads "NO WAR. Stop the war. Don't believe propaganda. They are lying to you here." at an unknown location in Russia March 14, 2022, in this still image obtained from a video uploaded on March 14.  (Channel One/via REUTERS)
Ukrainian President Volodymyr Zelenskyy thanked the protester in during a video message, Tuesday. 
"I am grateful to those Russians who don't stop trying to convey the truth," Zelenskyy said. "To those who fight disinformation and tell the truth, real facts to their friends and loved ones. And personally to the woman who entered the studio of Channel 1 with a poster against the war."
ZELENSKYY 'GRATEFUL' TO RUSSIAN REPORTER WHO INTERRUPTED LIVE COVERAGE WITH 'NO WAR' SIGN
While Ovsyannikova was hailed for her bravery by people across the globe, she could face a steep punishment for her actions. 
The journalist could face additional charges under newly passed laws which ban calling Russia's war with Ukraine an "invasion" or "war" and makes it a crime to spread "fake news" about Russia's military. Violators can face up to 15 years in prison.
CLICK HERE TO GET THE FOX NEWS APP
Before storming the set, the journalist recorded a video of herself admitting she was "ashamed" to have promoted Putin's "propaganda" for years.
"Sadly, I've been working on the First Channel during last couple of years, have been doing Kremlin propaganda, for which now I am very ashamed," Ovsyannikova said.
She also called for unity between the nations, noting her father was Ukranian and her mother was Russian. 
"[T]hey have never been enemies, and this necklace is a symbol – that Russia must immediately stop this war and our brotherly nations can still come together."