Pelosi's Asia Itinerary Makes No Mention of Visit to Taiwan
Democratic House Speaker Nancy Pelosi appears to have backed down from her provocative "legacy-building" plan to visit Taiwan after China launched live-fire drills off their coast and threatened war.
If Pelosi visits Taiwan , then war is a possibility

China has issued a warning, using the phrase
"不会坐视不管"

Meaning "We will not sit idly by"

The same warning was issued at the Americans in 1950 when they crossed the 38th parallel, resulting in China joining the Korean War pic.twitter.com/SP0EwZ8FCu

— Zhao Dashuai 无条件爱国 🇨🇳 (@obsidianstatue1) July 29, 2022
📹| Warplanes of the US Navy are flying near Taiwan.
▪️Very harsh statements from China continue to come before US House of Representatives Speaker Pelosi's visit to Taiwan
▪️Tension in the region has risen to its highest level. pic.twitter.com/9AzZGQ3QPy

— EHA News (@eha_news) July 30, 2022
#Latest China's remarks on countering #Pelosi's possible visit to #Taiwan shows highest level of warning. All options, including military ones, are already on the table. It's crucial to accurately understand China's remarks and avoid misunderstandings, experts.@globaltimesnews pic.twitter.com/0LRJ4e0Jgt

— Zhang Meifang张美芳 (@CGMeifangZhang) July 30, 2022
US House Speaker Nancy #Pelosi office officially announced her itinerary to Asia on Sunday. It said Pelosi will lead a Congressional delegation to the Indo-Pacific region, including visits to Singapore, Malaysia, South Korea and Japan, China's #Taiwan was not mentioned. pic.twitter.com/AK6X0lm8OU

— Global Times (@globaltimesnews) July 31, 2022
From Bloomberg, "Pelosi's Asia Itinerary Skips Mention of Taiwan Stopover":
US House Speaker Nancy Pelosi will visit Asian countries including Singapore and Japan in her trip to the region, according to a statement from her office that skipped any mention of a possible stopover in Taiwan.

Pelosi will lead a congressional delegation that will also visit Malaysia and South Korea, according to a statement on Sunday. The trip will focus on mutual security, economic partnership and democratic governance in the Indo-Pacific region, it said.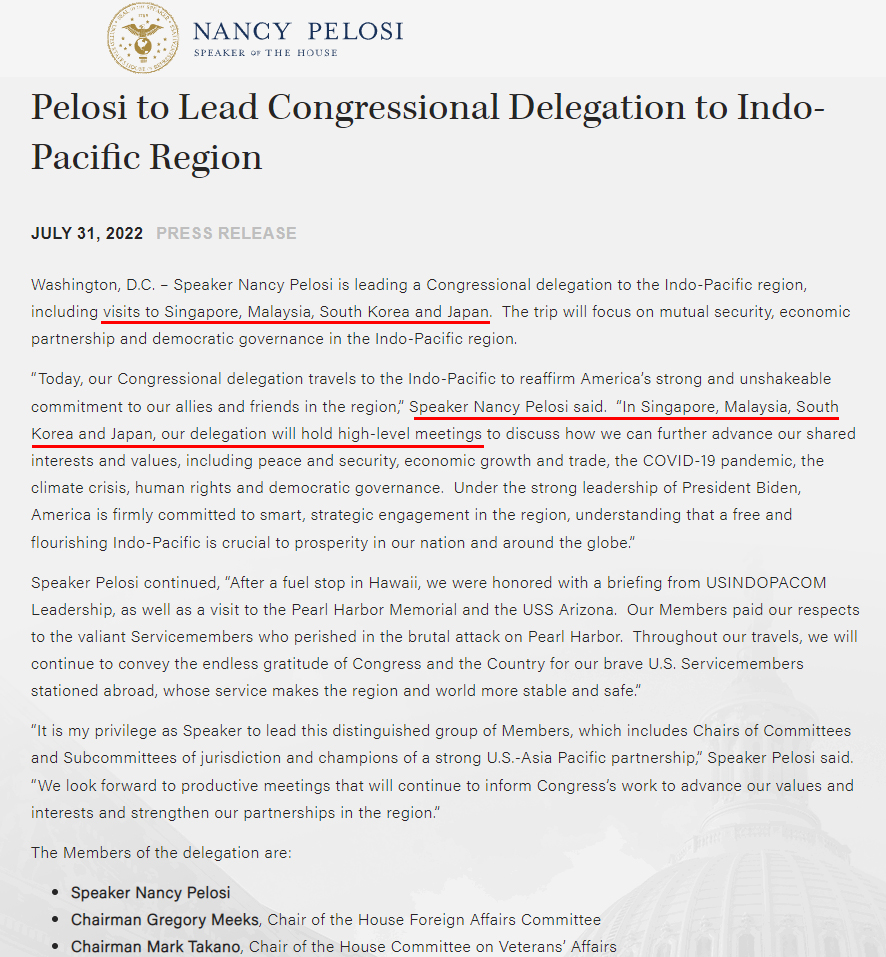 Reports that her travel would include a stop in Taiwan had sparked a furious reaction in China, which regards the self-governing island as part of its territory. Beijing has warned there will be consequences if Pelosi visits, including a defense ministry statement that implied China might use military force in response.
Back in April, Pelosi threatened to go to Taiwan but canceled after claiming she tested positive for covid. It appears she has canceled her trip again.
So much for her "legacy!"
---
Chinese Army May Impose No-Fly Zone Over Taiwan Ahead Of Pelosi Visit
CLICK HERE to watch our live feed that's now streaming 24/7 on GETTR! Also, be sure to follow Alex Jones and Banned.video on GETTR for breaking news and exclusive information!